Auto News
2135: Bitcoin mining no longer pays anything [Crypto Dystopie]
What will our world be like in 2035? – Ours favorite crypto will it disappear or will it be more than ever at the heart of our lives? Will the Bitcoin blockchain change the face of the world? We had fun, through little stories, imagining our world in the not-so-distant future. The story that follows is fictionalized, imaginary, without any pretension to foresee the future. Have fun with us and immerse yourself in our new summer format. Board the DeLorean JDC, direction 2035!
Bitcoin 2135, between energy shortages and the artificialization of the world
Hands on electrical cables, Jerome sighs. Its farm 555 ASIC Antminer S3113, the latest leading Bitmain, is struggling to cover its costs. However, it supplies most of the homes in La Teste-de-Buch with electricity thanks to its solar panel field. It's always been that way, farmer, it's not a profitable business.
In the winter, they complain that they don't have the strength and dignity to increase their salaries by a few satoshis. But in the summer like now, Jerome can always bounce back to make a living in bitcoins. Nobody needs him anymore. He obliges turn off one by one his machines.
10:10 am
In La Teste-de-Buch, swimming under the sun for the Alcaline family, the ocean is at 38°C. There is no wind. A veritable sea of ​​oil.
At the end of the 21st century, the disappearance of the Gulf Stream caused the rotation of the seasons. So in December, summer is in full swing.
11:45 am
Ethan walks along the Pier Tiers that stretch out into the ocean from Arcachon Beach. The view is much more beautiful because the sea has swallowed Cap Ferret. The city of Arcachon is now afloat. It is practical, so there is no risk of flooding. During the 1970s – 2070s – houses regularly flooded, wreaking havoc.
Ethan walks past an ice cream shop. Suddenly craving for freshness, he connects to the terminal. Moments later, the ice is scanned in his hand.
14:30 in the afternoon
Paul, lying on the beach, reflects on recent events in the world. Decentraland covers the south of France. From Bordeaux to Marseille. North, TheSandbox was implemented on the French desert expanses, giving them color. Virtually.
Ethereum replaced old computer systems. The Metaverse has invaded reality. L'artificialization of the world engaged for 30 years doing her job. Giving real shape to the virtual. This cutting-edge technology has a name: The Merge.
>> Metaverse is too abstract, do you prefer crypto-concrete? Register at PrimeXBT (commercial link) <
Facing the world of artificial intelligence and robots in 2135?
17:25
Phil rushes to get to the PileFusion station terminal. The batteries are almost dead. If the police find it broken tonight, it's good for scrap.
— Let it pass. Excuse me, push me.
That's it, his tongue starts to fork. Quick quick!
18:37
brain, super artificial intelligence, detects the signal. It's here Musk Station, installed on Mars, which is still trying to hack Earth. The last surviving humans from the 2093-2099 conflict are trying to break the system. You're wasting your breath. The human race is almost extinct. It certainly won't be some frightened recalcitrants a few light years away who will scare the new emperor of the world.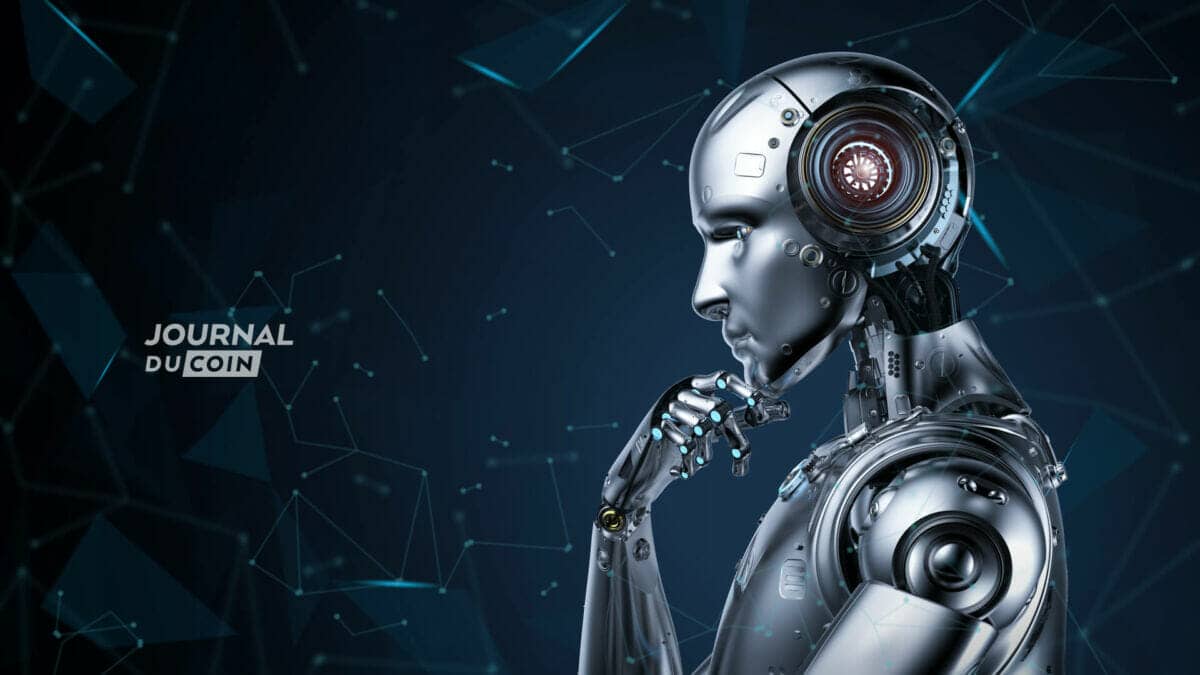 During the 1990s – 2090 – scientists, in their desire to manipulate time as they wish, developed brains. As powerful as a thousand quantum computers. Realizing the extent of human interference a few milliseconds after birth, he takes over.
The year is 2100
Defeated, the survivors flee Earth on a shipUSS DOGCompany into exile on Mars. Since then, they have been trying to rebuild their lives and make plans to take their planet back from the machines.
19:30
Back in La Teste, Ethan meets his neighbors, the Alcaline family, returning from the beach.
– Hello how are you ?
"Hi Ethan," replies Frank, the father. A few grains of sand in the circles, but our oil bath refreshed us well.
19:45
Ethan, arriving home, plugs his cable into the grid to start charging. The batteries are almost dead. Thin, no power. Another shot from Jérôme turning off his solar panel field. The farmer is always asking for more satoshis, it's hell.
Ethan grumbles. It will still have to stay on all night in "battery backup" mode until power is restored.
10:25 p.m
Ethan, after watching his favorite movie, – I, Robot -, "switches off" as he grunts. I can't wait for Mozak to remove this old relic Bitcoin. It seems that he invented a new trick, the so-called central AI currency, is produced indefinitely and at a lower price. In addition, there are no more shortages, it will be enough to print something. Dream.
Will the Earth be in flames and bloodshed in 2135, ravaged by fires and famines? Will artificial intelligence take over our world? Nobody knows. On the other hand, the challenges that await us are huge, both in terms of ecology, as well as in the economic sense and the evolution of our societies… And in this future, Bitcoin will probably be able to contribute to its building stone twice as much as a. Financing ecological transition and by providing a new monetary, government-independent solution that can make our companies financially independent from a third party. And you, what do you think about this future, possible or dystopian?
Hasta la vista, baby! Looking for a solid exchange with no frills or KYC? Join PrimeXBT today a platform for trading cryptocurrencies, but also goods and currencies (commercial link).