By July 1, 2024, all companies must be able to receive electronic invoices collected from dedicated platforms. But which ones? How to choose between Public Invoicing Portal (PPF), Partner Dematerialization Platform (PDP), and Dematerialization Operator (OD)?
From July 1, 2024, large companies will have to issue invoices in electronic format. From this date, all companies, regardless of their size, must therefore adopt them. Under certain conditions, companies subject to issue obligations will send their invoices to their professional customers through a platform that will be responsible for sending electronic invoices to the customer's platform. This mode of invoice transmission is usually designated by the expression Y-pattern (see figure below).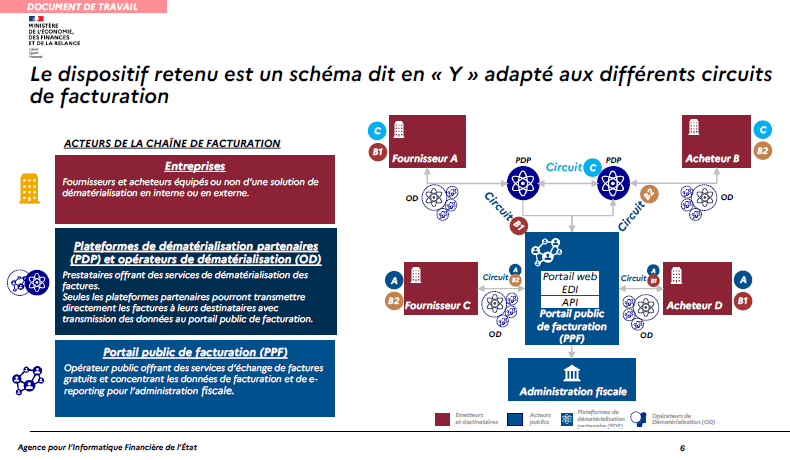 formula: Agency for State Financial IT
From this figure it can be seen that:
There is no possibility of sending invoices directly between the companies themselvesand must pass through a platform;
3 types of actors are able to manage electronic invoices: Public Invoicing Portal (PPF), Partner Dematerialization Platform (PDP) and Dematerialization Operator (OD) ;
All data must be returned to the PPF.The public invoicing portal will centralize this information and forward it to the tax administration. So DGFiP has only one contact to receive data, Instead of retrieving data directly from each PDP.
Unlike the V-scheme implemented in other countries such as Italy, the Y-scheme allows different platforms to communicate with each other without going through a public billing portal.

Discoverjefacture.com, is an electronic invoicing platform designed by Chartered Accountants for their clients.
Choose your e-invoicing platform and your customers before 2024
In practice, invoices will be deposited by the supplier on its platform, then sent to its client's platform, which may be different from the one chosen by the supplier. Platforms will indeed offer a minimum base of formats that will guarantee exchange interoperability.
The role of platforms is not limited to the exchange of invoices. Information regarding the status of the shipment (payment, paid) should also be sent to the supplier's platform (see figure below).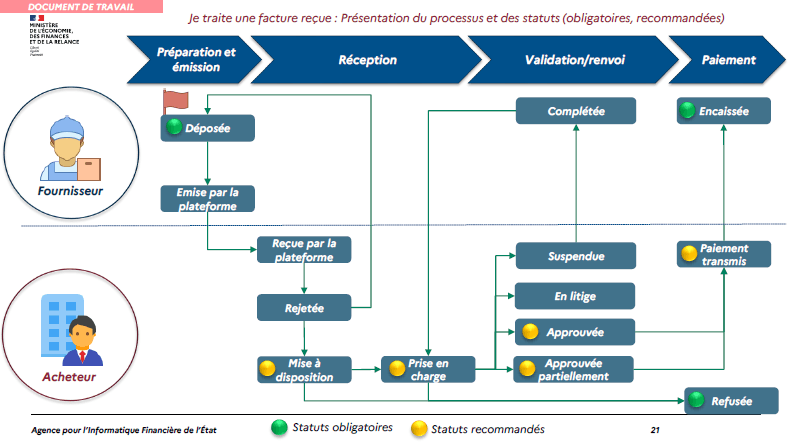 formula : Agency for State Financial IT
But how to choose your platform? Should we settle for public platform services, choose a partner dematerialization platform, or work with a dematerialization operator?
Public Billing Portal (PPF)
The future public invoicing portal will be built on the same principles as the current Corus Pro platform, which already allows invoice management for the public sector.
PPF manages the directory that lists the platforms chosen by the company, with the aim of sending invoices to the right recipient. It provides a free, but minimal, service to companies that choose this platform to submit, send and receive their invoices.
Partner Dematerialization Platform (PDP)
Partner dematerialization platforms must be registered with the tax administration and certified for a renewable period of three years. Their roles will be:
send and receive electronic invoices;
Extract invoice and payment data to send to tax authorities.
They can also offer additional services to businesses:
Creating invoices directly from the platform;
Conversion of the invoice drawn by the supplier to convert it into a format expected by the customer;
Pay invoices to suppliers from the platform;
Dedicated access for chartered accountants to their clients' invoices;
Provision of a dashboard and monitoring of customer and supplier schedules.
jefacture.com aims to be the profession's dematerialization platform partner by managing the flow of accounting firms and their clients representing more than 3 million companies.
Dematerialization Operator (OD)
Dematerialization operators (OD) provide value added services to companies in managing their invoices.
But beware, a dematerialization operator does not replace a platform! ODs are not authorized to send invoices to recipient platforms or extract data for tax administration. Only PPFs or PDPs are authorized to do so
A strategic challenge for accountants
Chartered accountants, the first advisors to business leaders, need to take advantage of the few months they have before obligations to determine the right solution for their clients.
With jefacture.com, the profession maintains control of the flow and is clearly positioned to provide additional services to businesses: Management support, collection and payment orders, invoice life cycle reliability,… the challenge is strategic!

Serving the accounting profession, jefacture.com is a major player in the standardization of electronic invoices promulgated by public authorities.
jefacture.com brings benefits to the firm: saving time and productivity, the opportunity to diversify its missions,… and to its clients: reduction of costs and administrative tasks, simplification of exchanges with the firm, better management of invoices and their rules,. ..