Shiba Inu (SHIB) News
7 consecutive losses reduce the price of Bitcoin to $26,500.. Will the decline continue after the inflation data?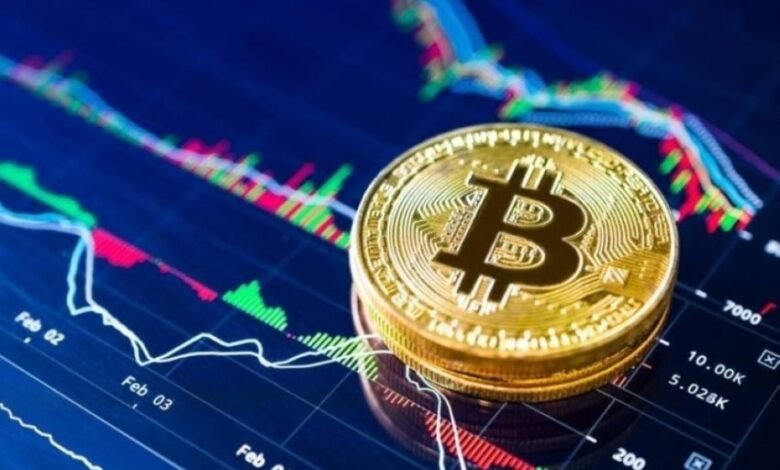 Bitcoin and other cryptocurrencies saw a decline for the fourth straight day on Thursday. Downside pressure increased after the release of US inflation data, which was slightly worse than expected. Bitcoin price has broken through some support levels in this downtrend, indicating the possibility of further decline in weekend trading.
Yesterday's US Consumer Price Index data showed a slight increase. An annual growth rate of 3.7% was recorded in September, the same as the previous month in August. However, it was slightly higher than market expectations, which had expected a decline to 3.6%. On a monthly basis, the inflation rate rose by 0.4%, higher than the expected 0.3%.
On the other hand, initial unemployment claims data remained stable at 209,000 claims for the week ending October 7.
Rising inflation numbers are prompting the Federal Reserve to tighten monetary policy further. This is exactly what the minutes of the Federal Reserve meeting released yesterday indicated. Previous statements confirmed that they will raise interest rates again before the end of the year.
Financial markets have already recognized this fact, but there are concerns that policy tightening will continue for much longer. Especially with the rise in oil prices, which may hinder efforts to combat high inflation rates and reduce them to target levels of about 2%.
This has led to a decline in risk appetite in global financial markets, which means increased demand for safe-haven assets such as the US dollar and Treasuries, and lower prices for risky assets such as stocks and cryptocurrencies.
As for the price performance of Bitcoin (BTC), the digital currency has shown relatively better strength compared to other alternative cryptocurrencies. One reason for Bitcoin's strong performance currently may be that investors turn to it as a relatively safe asset during periods of uncertainty.
This can be seen from the Bitcoin dominance index in the cryptocurrency market, which is now approaching its highest level in two years.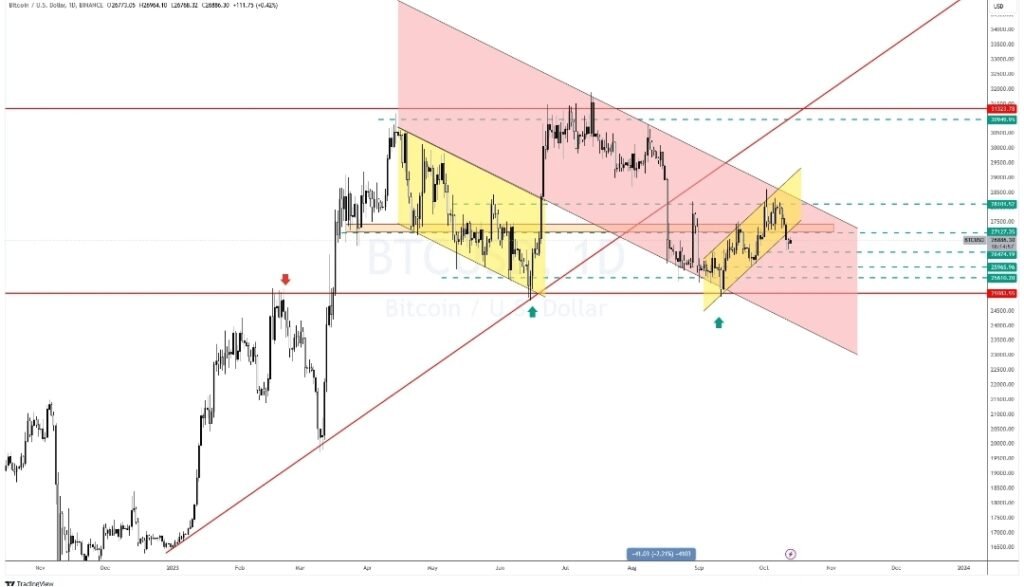 The technical forecast for Bitcoin (BTC) price shows that in the medium term, it is moving within a descending price channel (red). In the short term, it was moving within an ascending price channel (in yellow) within the first channel. However, it broke through on Wednesday.
Bitcoin's daily price chart shows that it is currently trading above the $26,500 support level. Breaking this level will open the way for further decline towards the $25,600 support level.
In the absence of strong news, it is expected that Bitcoin price will be limited to trading between the $27,100 and $25,600 levels next week.
However, caution is still required due to sudden and unexpected changes.