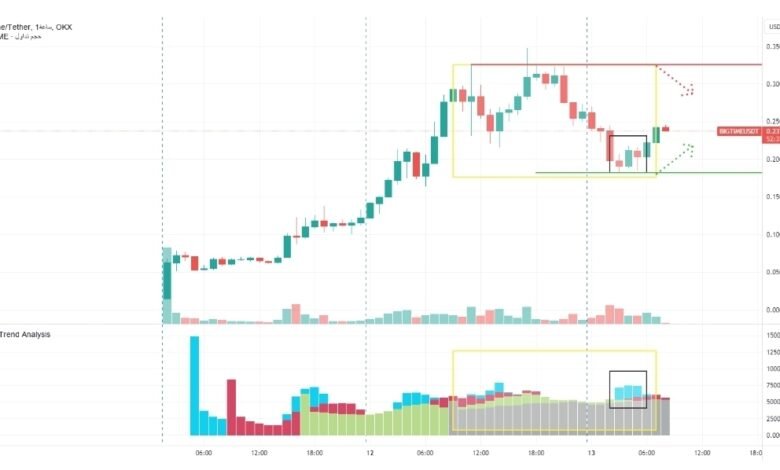 "Big Time Token (BIGTIME) was listed on Coinbase and OKX on October 11, with a subsequent 30x increase in value. This meme-based token has sparked interest in the blockchain gaming sectors and meme coins. Other gaming syndicate tokens such as YGG on -chain, BNX on-chain, and more, all have short-term pumps.
In the history of cryptocurrencies, when Bitcoin was struggling to maintain its upward trajectory, memes signaled a short-term bull market. This was evident in early May when Bitcoin was fluctuating at its current position for a week, and the launch of BIGTIME will likely shift some money.
On a daily level, there is limited information available about BIGTIME. Therefore, we shift our focus to the hourly level, where the WTA (Whale Tennis Association) indicator delivers two important messages. First, during the bounce, the blue column representing the whale did not disappear but reappeared a few hours ago, interrupting the bounce. This indicates that new whales participated in the trade and bought the chips, indicating that the long-term trend of BIGTIME is not over yet. Another piece of information is that in the early days of BIGTIME, the main participants were whales, and when the gray bars representing individual investors appeared, the price was almost stagnant and the increase slowed down. We have represented this stage with a yellow square.
In the short term, BIGTIME may continue to bounce, but its ability to break through the high point will depend on whether there will be continued whale flows. BIGTIME's meme pump features are superior to those of existing games in the series. So, if you are holding this coin, you need to be careful. It would make sense to have either a long green candle or a long red candle.
Disclaimer: Any content in this text does not constitute investment advice. This text provides an objective description of the market situation and should not be considered an offer to sell or a solicitation to buy any digital currency.
Any decisions made based on the information in this text are your sole responsibility. It is advisable to analyze any investment made or to be made based on your financial situation and personal goals."
"Ethereum analysis on the daily time frame"