Bitcoin (BTC) news
"Current Pause in Ethereum (ETH) Price Surge: A Potential Resurgence on the Horizon"
Temporarily, with ETH stabilizing after a significant surge, investors are left pondering: when will Ethereum's price surge resume? The recent pause in Ethereum's surge provides us with a insightful view on potential future scenarios, as depicted by chart analysis and recent developments. This consolidation phase is healthy as it allows the market to establish new support levels. Ethereum's chart shows a recent pullback following a sharp price increase, indicating a market pause. The price remains well above the 50-day and 100-day moving averages, indicating a continuing upward trend. The relative strength index (RSI) has retreated from overbought levels, potentially signaling room for further price increases.
The Bullish Scenario:

Should Ethereum maintain its support level and avoid falling below the moving averages, the price may prepare for another surge, potentially bolstered by increased adoption and positive market sentiment. The tightening Bollinger Bands followed by a breakout above the upper band may signal the beginning of another upward phase.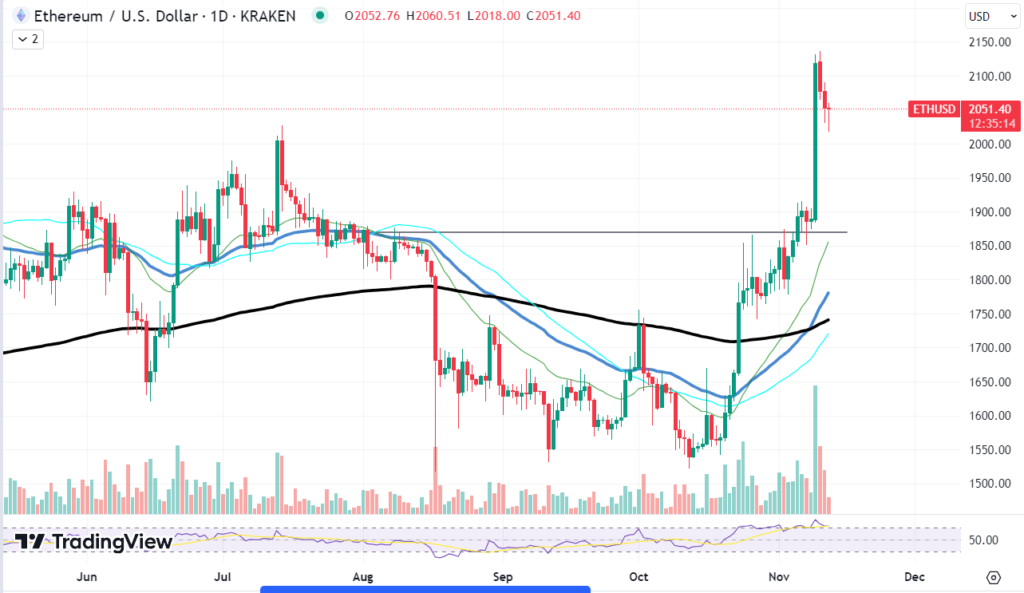 The Bearish Scenario:

Conversely, a break below the moving averages could indicate a bearish reversal. Increased selling pressure and negative market sentiment could drive the price downward. A bearish crossover on the MACD may indicate a potential shift towards a downward trend. The sustained growth of Ethereum has surpassed emissions after six months of the Merge upgrade, contributing to its deflationary nature. However, Ethereum's daily burn rate has reached its lowest point in seven months as of March 12, showing a decline of over 89% since its peak highs. Such dynamics in the burn rate can impact supply and demand economics, possibly affecting the price.
Investors should monitor the continued net burn trend, which could lead to reduced supply and price increases if demand remains steady or increases.
Shiba Inu Joins the Party:
The meme coin frenzy continues as Shiba Inu (SHIB) grabs attention with recent price movements, sparking discussions on whether it can breach the $0.00001 threshold this week. Amid massive transfers facilitated by Binance, conducting thorough technical analysis is essential in evaluating SHIB's potential.
Notably, there has been a significant increase in its value, challenging previous resistance levels. The convergence-divergence of the moving average (MACD) indicates a positive trend, with the blue MACD line well above the signal line, suggesting strong upward momentum. When analyzing the price chart, the relative strength index (RSI), though not in overbought territory, is edging towards the 70 mark, potentially signaling increased buying pressure.
One crucial factor to note is the breach of the 50-day and 100-day moving averages, which SHIB has surpassed, indicating a strong upward trend. Volume bars align with price increases, confirming bullish sentiment among traders. Additionally, the expanding Bollinger Bands typically signify increased market volatility and the possibility of significant price movements.
Reaching the psychological $0.00001 level is within sight for Shiba Inu. To sustain movement above this level, SHIB will need to maintain its current momentum and witness continued buyer volume flow. Closing above this level on the daily chart may confirm the bullish breakout, potentially leading to further gains. Recent large SHIB transfers by Binance have fueled speculation. Such widespread movements can indicate institutional interest or significant trader positions, which, in turn, could lead to major price fluctuations.
Looking ahead, and with the potential to reach and surpass the $0.00001 mark, investors should remain cautious since meme coins can be highly volatile and sensitive to market sentiment. Monitoring the mentioned technical indicators and news related to large transfers will be critical in determining whether SHIB can maintain its upward trajectory.
READ MORE bitcoin-miners-earn-44-million-in-a-single-day-marking-the-highest-annual-level-ever-recorded/